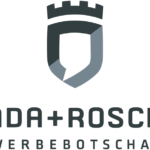 Webseite Janda Roscher
Die WerbeBotschafter
Ми шукаємо веб-дизайнерів з досвідом і пристрастю до різноманітних проектів, супер приємних клієнтів і справді чудову команду? У, мабуть, найкрутіших залах агентства в жвавому старому місті Регенсбурга, з усіма мислимі перевагами, які роблять життя красивішим.

У творчому середовищі з командою чудових професіоналів...
• Ви розробляєте логотипи та цілісний корпоративний дизайн, редакційний дизайн, рекламні кампанії, інфографіку, виставкові стіни та багато іншого.

• ви супроводжуєте кросмедійні концепції, комунікаційні стратегії та інформаційні засоби для відомих клієнтів.

• Ви також можете створити дизайн екрану для адаптивних веб-сайтів, інформаційних бюлетенів, банерів і цільових сторінок.

• ви розробляєте концепції UX, шляхи користувача та інтерфейси користувача для різних кінцевих пристроїв.

• ви розробляєте потоки користувачів, каркаси та прототипи, щоб ефективно передавати вказівки користувача, взаємодію та ідеї дизайну.

• Ви створюєте міжканальні онлайн-кампанії, вміст веб-сайту, а також публікації та історії в соціальних мережах.

• Ви тісно співпрацюєте з нашими маркетинговими та веб-розробниками

• ви доносите концепції та ідеї всередині команди та клієнтам.

• ви готуєте презентації для клієнтів.

• ви робите значний внесок у візуальний та комунікативний розвиток брендів.

• Ви контролюєте стажерів та стажерів у сфері дизайну.
Нам цікаво, що ви вже зробили.
We are looking for web and print designers with experience and passion for varied projects, super nice customers and a really great team? In probably the coolest agency rooms in the lively old town of Regensburg, with all conceivable advantages that make life more beautiful.
In a creative environment with a team of super nice professionals…
• you develop logos and holistic corporate design, editorial design, advertising campaigns, infographics, exhibition walls and much more.
• you accompany cross-media concepts, communication strategies and information media for well-known customers.
• Or you can alternatively design the screen design for responsive websites, newsletters, banners and landing pages.
• you design UX concepts, user journeys and user interfaces for different end devices.
• you develop user flows, wireframes and prototypes to effectively communicate user guidance, interactions and design ideas.
• you design cross-channel online campaigns, website content as well as social media posts and stories.
• you work closely with our marketing and web developers
• you convey concepts and ideas within the team and to customers.
• you prepare customer presentations.
• you make a significant contribution to the visual and communicative development of brands.
• you supervise trainees and interns in the design field.
We are curious what you have done so far.